This summer, you will find me in a cap and sunnies. The specific sunnies I will be wearing are made by Norma Kamali. My husband got me them for my last birthday. They replaced the exact pair I had for the seven previous years. [They're your basic cat-eye, tortoise shell, bit-of-amazingness that I won my while visiting the opening of Norma Kamali's flagship store in Manhattan. She used to be my favorite designer in the whole wide world, and so my sunglasses have always been a reminder of the epic day I got to meet her.]
I wear sunglasses to keep the sun out of my eyes, sure. But there is a much more important reason that I always reach for my shades. And that is, that when I put them on, I feel like I'm all that and a bag of chips. And then I'm like, "pishaw daily annoyances", as I karate-chop my way through frustrations until I get to the end of my to-do list.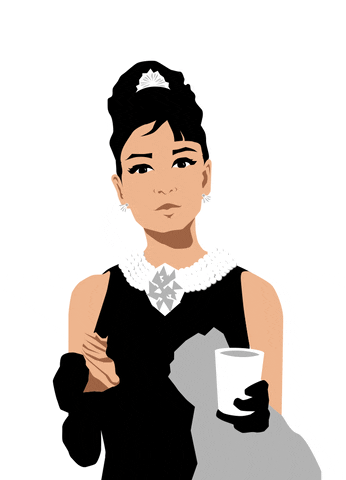 Imagination.
It's key. When I put on my cap; my shades; and heck if I'm fancy, some red lipstick, it's the equivalent of Clark Kent post phone booth. I am ready to OWN my day. Sure nothing has actually changed. But I kind of pretend, sort of, that I'm Audrey Hepburn or insert other cool maven who rocks a pair of glasses.
Because that's all fashion is, it's a big lovely game of pretend. 
Practice.
These days, everywhere has amazing sunglasses; from TJ Maxx to Ann Taylor Loft to Charlotte Russe (I'm a 30 year old woman who shops there with no plans to quit) to any department store. For as little as $5-$10 you can own a really fantastic pair.
Try lots on. Take actual pictures of your face and look to see if the glasses are the right shape/color for you. If they don't give you a sense of I-have-it-all-togetherness then try a different pair. Bring a friend and ask their advice. Or just text them pictures from the store. I'm definitely the weirdo who does allll these things in the middle of the store because yes, they're necessary.
Commitment.
Once you find a great pair of sunglasses, wear them like your superpower depends on them. Sport them on days you have a million errands to run, and also on days you'll be lounging poolside. Wear them with your hair done and your makeup on. And wear them when you've got no time for hair or makeup; they will be the one thing you DO have time for. 
I talk all the time about why fashion is important: because it makes us confident, and that confidence helps us get our important jobs done. Well, here is a very nuts and bolts post on how to do that, and it doesn't cost a lot of money. Just fire up the ol' imagination, try on lots of sunnies, and live in the pair you choose.
XO
Mrs. Emily